Singapore – Following the successful pre-event campaign of I.T Show 2013, 'I.T Is On!', a sequel event-day campaign for the same convention, was deployed by Singapore based digital creative agency,noisycrayons.
I.T Is On! was deployed via a web application that transmitted 'live' updates of special promotions, product images and videos to the mobile phones and tablets of tens of thousands of followers.
Followers could also find out where their favourite booths are located via a virtual map and receive chances to spin the virtual I.T Show Wheel to win gadgets such as the Macbook Pro and iMac.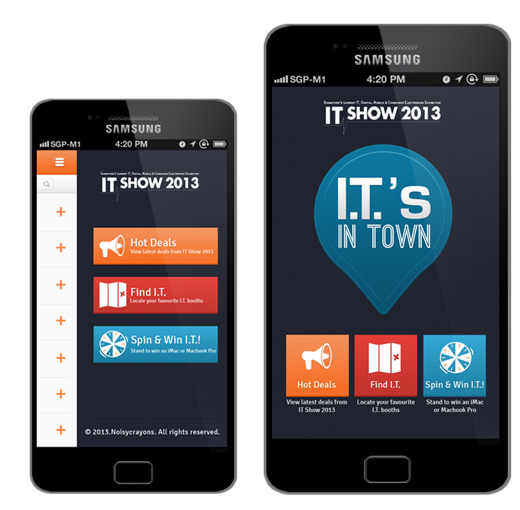 "We wanted to break away from the conventional shows where long queues and thick stacks of flyers overwhelm the event goer. So we designed a campaign that focused on relevance, usefulness, usability and convenience, facilitating the access of information that would aid purchase decisions without hassle. The advent of the mobile platform enabled organisers to put to-the-minute information to the hands of many event goers, who would in turn share timely information with their social networks. To us, it was about cutting the queue, saving the trees and delivering instant convenience.", explained noisycrayons CEO Stefan Lim, who led the creative team for I.T Show 2013.
The campaign saw more than 20,000 tech savvy Singaporean PMETs seek out the most attractive I.T Show deals on their mobile devices and brought the total fan base of I.T Show on Facebook to almost 40,000 fans in 4 days.
The digital consumer engagement programme for I.T. Show 2013, is managed by noisycrayons, a SPH Magazines affiliate.