Singapore banks build sizable following on Facebook
Tweet
By Stefan Lim on 6 August, 2012
Singapore - This update presents a snapshot of the growth in Facebook fan numbers among banks in Singapore.
Fan Base and Engagement Level
Singapore banks have an average of 18,000 fans on Facebook.
'Citibank Singapore' has the largest following on Facebook with a fan base of more than 30,000 fans. 'DBS Cards', with 7,900 fans, has the smallest following.
On the week of 4 Aug 2012, engagement levels at 'Citibank Singapore' were the highest among all bank pages in Singapore while 'Frank by OCBC' was the least engaged fan page.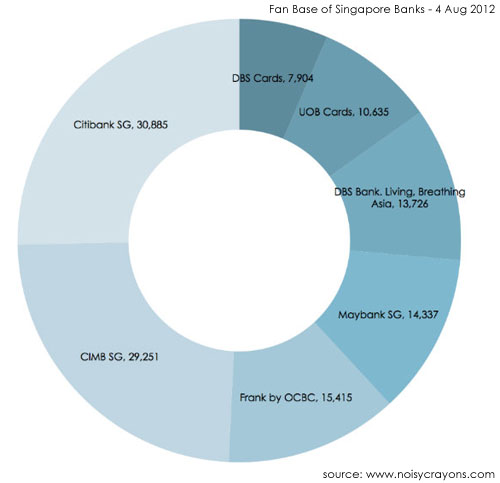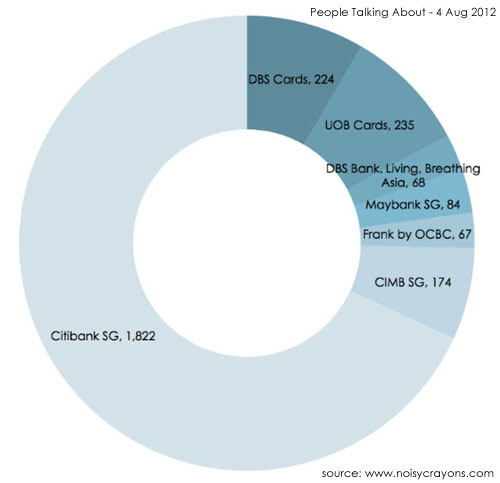 Rate of Fan Growth (Feb - July 2012)
Facebook pages of UOB, CIMB and Maybank show the highest absolute growth in Facebook fan numbers over the last 6 months.
The fan base of 'UOB Cards' expanded by 197% while 'CIMB Singapore' and 'Maybank Singapore' grew by 125% and 41% respectively.
The slowest growing pages are 'Frank by OCBC' and 'DBS, Living, Breathing Asia' which expanded by 6% each.
Tweet
More Updates...
Set off on a Quest for Speed at Tokyo Auto Salon
I.T Is On! - Socially-integrated mobile campaign lights up I.T Show
IT Begins Now! - Prelude campaign for I.T. Show 2013 launched
Make a dash for 100 AM goodies at the 100 AM Sprint!
Spread the Kleenex softness with The Christmas Express
Go Bingo! Bringing TNP Bingo back - with a social twist
Optimising consumer engagement on Facebook
Licence2Play brings you a magical experience with Wizard's Roll
5 social media marketing stories you shouldn't miss this week
Singapore banks continue expansion path on Facebook
Pass on the cheer, comfort and affection with Kleenex
Singapore Flyer extends partnership with noisycrayons
Marshall Cavendish Education makes learning fun with Word Tango
Sunset In The City by Nikon woos the shutterbug in you
What's In Your Closet: A flirtation with dreamy romance
Singapore banks build sizable following on Facebook
Jean Yip's Project Perfect seeks beauty perfectionists
Paradise Group whips up 'a feast of good life' on social media
Maybank goes to the movies with youths on social media
noisycrayons opens door to great perks for rebranded 701Pages
Regional campaigns for Toshiba and Marie France launched
Paradise Group restaurants go social with noisycrayons
Celebrate an unforgettable Mother's Day with PANDORA Singapore
Singapore Flyer celebrates 4th Anniversary on social media
Beauty brands Marie France, Bella, Svenson engage on social media
S'pore retail malls scale up consumer engagement on social media
Opportunities for S'pore banks to further embrace social media