Opportunities for Singapore banks to further embrace social media
Tweet
By Charis Liew and Stefan Lim on 5 January, 2012
Singapore - How are banks in Singapore leveraging on social media to market and brand their products and services?
This week, we measure the relative success of bank fan pages on Facebook by looking at their outreach (number of fans) and level of engagement (number of people who interact with the bank).
Besides attaining a large fan-base, banks should aspire to turn as many of their customers into passionate advocates. Therefore, the ability to connect and relate to the lives of customers is just as important. We believe in movements to acquire a sizable following and attain healthy levels of interaction between brand and consumer. This creates opportunities to shift sentiments of consumers, thereby increasing brand influence.
However, we have observed an apparent mismatch between fan bases and level of engagement amongst banks in Singapore.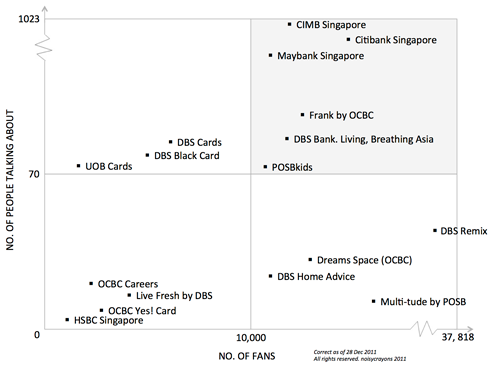 The DBS Remix page by DBS appears to be the largest bank-related page in Singapore. Having garnered close to 38,000 fans, an engagement rate of 0.2% is relatively low amongst leading bank pages.
We contrast the DBS Remix page with banking related pages. CIMB Singapore and Maybank Singapore, both with smaller fan bases (between 11,000 to 12,000 fans), have higher engagement rates of 8.8% and 8.3% respectively.
Lower engagement rates usually imply that the page has not been interactive enough, however more often than not, bank pages are experiencing inconsistent engagement rates. This suggests that page owners have not been able to proactively engage in conversations with their followers daily. We think there are opportunities to craft more holistic engagement plans and sustainable storyboards.
Simply put, followership engagement has to be an on-going and continuous communication process to entice and attract followers, then eventually have them speak positively about your bank.
At noisycrayons, we believe local banks can simultaneously acquire a sizable number of fans and engage them at a respectable level.
To find out how to increase your number of followers and further turn them into the right advocates for your brand, speak to us today.
Tweet
Notes:
Data is correct as of 28 Dec 2011

Engagement level is a snapshot of the interaction achieved during that specific week of tracking. Brands with relatively less activities in the week might experience engagement levels that are below norm. An abnormally low level of activity during this week does not imply that these pages have low engagement rates throughout.

Engagement rate is arbitrary. We calculated engagement rate to be % of people "talking about this" over the total fan base. However, since non-fans can also interact (like, comment, share) with a page, the metric "no. taking about this" includes both fans and non-fans. Hence, the derived engagement rate applied here is an arbitrary number.
More Updates...
Set off on a Quest for Speed at Tokyo Auto Salon
I.T Is On! - Socially-integrated mobile campaign lights up I.T Show
IT Begins Now! - Prelude campaign for I.T. Show 2013 launched
Make a dash for 100 AM goodies at the 100 AM Sprint!
Spread the Kleenex softness with The Christmas Express
Go Bingo! Bringing TNP Bingo back - with a social twist
Optimising consumer engagement on Facebook
Licence2Play brings you a magical experience with Wizard's Roll
5 social media marketing stories you shouldn't miss this week
Singapore banks continue expansion path on Facebook
Pass on the cheer, comfort and affection with Kleenex
Singapore Flyer extends partnership with noisycrayons
Marshall Cavendish Education makes learning fun with Word Tango
Sunset In The City by Nikon woos the shutterbug in you
What's In Your Closet: A flirtation with dreamy romance
Singapore banks build sizable following on Facebook
Jean Yip's Project Perfect seeks beauty perfectionists
Paradise Group whips up 'a feast of good life' on social media
Maybank goes to the movies with youths on social media
noisycrayons opens door to great perks for rebranded 701Pages
Regional campaigns for Toshiba and Marie France launched
Paradise Group restaurants go social with noisycrayons
Celebrate an unforgettable Mother's Day with PANDORA Singapore
Singapore Flyer celebrates 4th Anniversary on social media
Beauty brands Marie France, Bella, Svenson engage on social media
S'pore retail malls scale up consumer engagement on social media
Opportunities for S'pore banks to further embrace social media